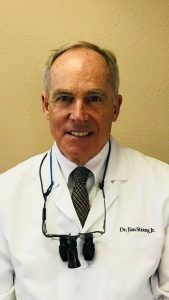 James Strang, DDS
At age 17, Dr. Strang left home to enroll in the University of Tennessee pre-dental program. There he was accepted by early decision to the College of Dentistry at the University of Tennessee in Memphis, Tennessee. After graduating with honors in 36 months, he returned to his home town of Chattanooga, Tennessee, to start his dental career.
He continued his lifetime of learning at the Dawson Academy for Comprehensive Dentistry, the Center for Aesthetic and Restorative Dentistry in Dallas, Texas, and the L.D. Pankey Institute for Advanced Dental Education in Miami, Florida. Later in his career he was invited to be a visiting faculty of the L. D. Pankey Institute. In this capacity, he could "give back" and teach dentists from the world over functional and aesthetic restorative dentistry from a holistic perspective.
In 2005, Dr. Strang moved his family and practice of dentistry to Colorado. He is a member of the Colorado Springs Dental Society, the Colorado Dental Association, and the American Dental Association.
Since moving to Colorado Springs, Dr. Strang and his family have become very integrated. After initially serving on the Board of Trustees to the Fine Arts Center in Colorado Springs, Dr. Strang was asked to serve on the Board of Advisors of the El Paso County Salvation Army. He spent the last three years on that board as its Chairman. Dr. Strang also supports his community through the Pikes Peak Range Rider Foundation.
In the brief window between college and dental school he met Cheryl Eubanks of Kansas City. They were married. She taught elementary school while Dr. Strang attended dental school. They are the parents of three adult children and are now the grandparents of three grandsons.
Their move to Colorado was a "lifestyle" choice. They only wish they had discovered Colorado life earlier.

Call Us Today!
Request an Appointment Today!
Meet Our Team
Our dental team is full of friendly, dedicated, and knowledgeable dental professionals. For 40 years, our dentist has been providing compassionate and comprehensive dentistry, and our team is pleased to be a part of his practice. When you visit Dr. James Strang in Colorado Springs, Colorado, our team will be with you through every step of your treatment to ensure that your visit is smooth, comfortable, and enjoyable. We invite you to get to know our team so you can feel more relaxed during your visit. We look forward to meeting you!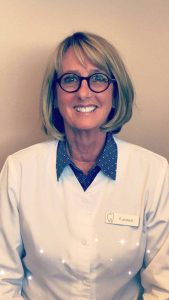 Carmen
Front Office

Christina
Registered Dental Hygienist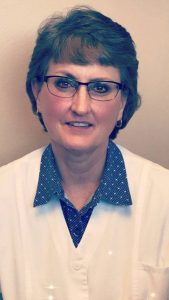 Lori
Expanded Duties Dental Assistant